Food supplement for the maintenance of urinary and vaginal health.
EVA INTIMA® CRANBIO combines the benefits of probiotic strains, cranberry extract and vitamin C. Lactobacillus & Bifidobacterium are strains that are commonly observed in urinary microbiome and demonstrate a protective role against pathogens.
Cranberry extract is rich in proanthocyanidins that prevent bacteria from getting attached to the urinary epithelial cells, thus reducing the chance of developing an infection through their proliferation. Vitamin C contributes to the normal functioning of the immune system and protection against oxidative stress.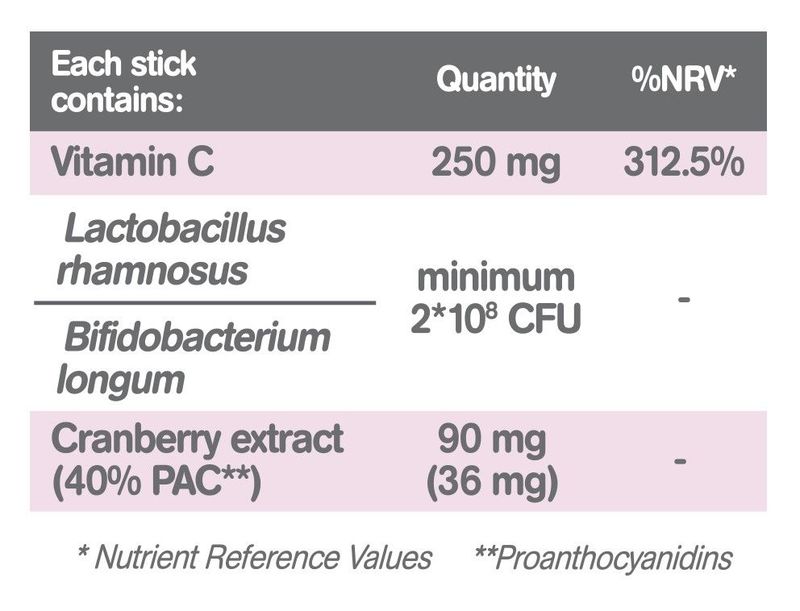 Our formula is:
With pharmaceutical grade ingredients, Sugars Free, Gluten free| Soy free |GMO free
Granules for oral suspension | Orange taste | 20 sticks
The daily consumption of EVA INTIMA® CRANBIO, both during infection in combination with medication, and as a precaution after the end of the therapy, helps maintain good urinary health and prevents recurrent urinary tract infections.
1 stick daily or according to doctor's advice. Add the content into half a glass of water (100 mL) and stir well.
DURATION OF USAGE:
According to doctor's advice.
• Do not exceed the recommended daily dosage.
• Food supplements should not be used as a substitute for a balanced diet.
• The excessive consumption may produce laxative effect.
• This product is not intended for prevention, treatment or cure of human disease. Consult your doctor if you are
pregnant, breastfeeding, under medication or having health problems.
• Store in a dry and cool (15-25_C) place, out of children's reach